John Breeze
Director and Head of Will, Trust & Inheritance Disputes
Education:
John relocated from Stoke-on-Trent in 2000 and obtained a degree in Law and a diploma in Legal Practice at the University of Sheffield.  After working as a paralegal in family disputes and civil litigation, John completed his training contract and qualified as a Solicitor in 2009.  In 2013 John moved into the niche practice area of contentious probate and further qualified as a Registered Contentious Trust and Probate Specialist.  He rose to the head of a Will, Trust and Inheritance Disputes team in 2019, before joining Wake Smith to establish a new specialist department in January 2023.
Main Areas of Work:
Acting for any party in connection with:
Disputes regarding the validity of Wills
Claims against deceased estates under the Inheritance (Provision for Family & Dependants) Act 1975
Disputes arising in the administration of estates and Trusts, including applications for the removal and substitution of executors or trustees
Applications for construction or rectification of Wills
Claims regarding the beneficial ownership of estate property
Disputes regarding powers of attorney
Great / Notable achievements at Wake Smith:
John is recognised as a Leading Individual in Contentious Trusts and Probate in the Yorkshire and Humberside region by the Legal 500, one of just four lawyers in the region to be awarded that accolade for 2024.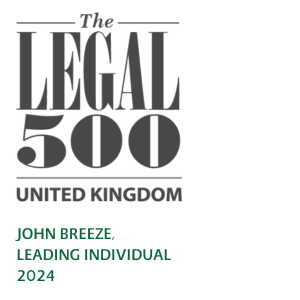 What clients say about you:
'John Breeze always tries to do the best for his clients and ensures that they receive the correct advice. His experience in the field means that he comes across as knowledgeable and approachable.' -  Quoted in the Legal 500 2024
'Tenacious and knowledgeable – they pull out every stop to ensure their client gets the best result and advice.' - Quoted in the Legal 500 2024
'John Breeze is pragmatic and an expert in his field who is able to gain the maximum benefit for his clients.' - Quoted in the Legal 500 2024
'John Breeze is a very, very clever man who is always ahead of the game and abreast of the arguments. He knows when to take an aggressive approach and when it's time to advise clients that negotiation would be in their best interest. A pleasure to work with.'
'John Breeze has grown into the person to refer to on contentious matters in Sheffield and the wider area. John is personable and helpful as well as strong and pragmatic when advising his clients.'
Recent articles by John Breeze